This is my ongoing build of a 1990 Dodge Dakota 2.5 Turbo. Most of this has been done so im writing it as an update, although there is a bunch more that needs to be completed and will update on that in the future. Most of this might be boring to read, but i've encountered some interesting problems and the final build should be pretty awesome.
So I have been posting on this forum for the past few years ever since I got my hands on an already swapped 1990 Dodge dakota with what I was told was an engine from a 92 daytona turbo. The truck didn't run well at all and had a blown head gasket, but I thought it was the coolest thing so I went for it. Im a college student so when I have time I put it into the truck. Last winter, I managed to replace the headgasket and brakes all around, slapped it back together and was happy with it.
About 6 months ago, once the truck was warm I could hear a weird noise that I wasn't comfortable with, I had posted about this around that time, but diagnosis from a video isn't the best way to go about it. I had a suspicion that it was from the lower end just from sticking my head in the engine bay. Being my theory I parked her until this past winter break where I tempted fate and drove her 300 miles to my parents (two car garage!).
Here I have gotten the engine out and prepping it to tear it down: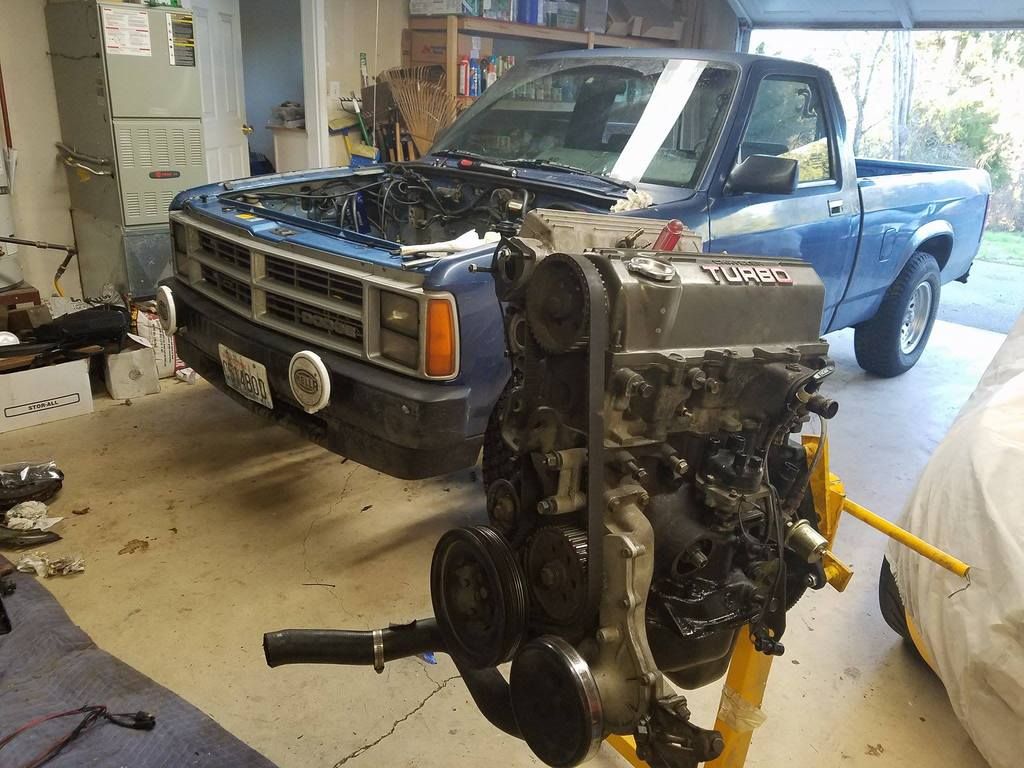 First things first, and the oil pan comes off to check for any metal bits that may be a good sign of my problem. What do you know, but I find a nice sparkly layer of bearing. In a way I am happy that I found something to start with.
Nice bits and chunks: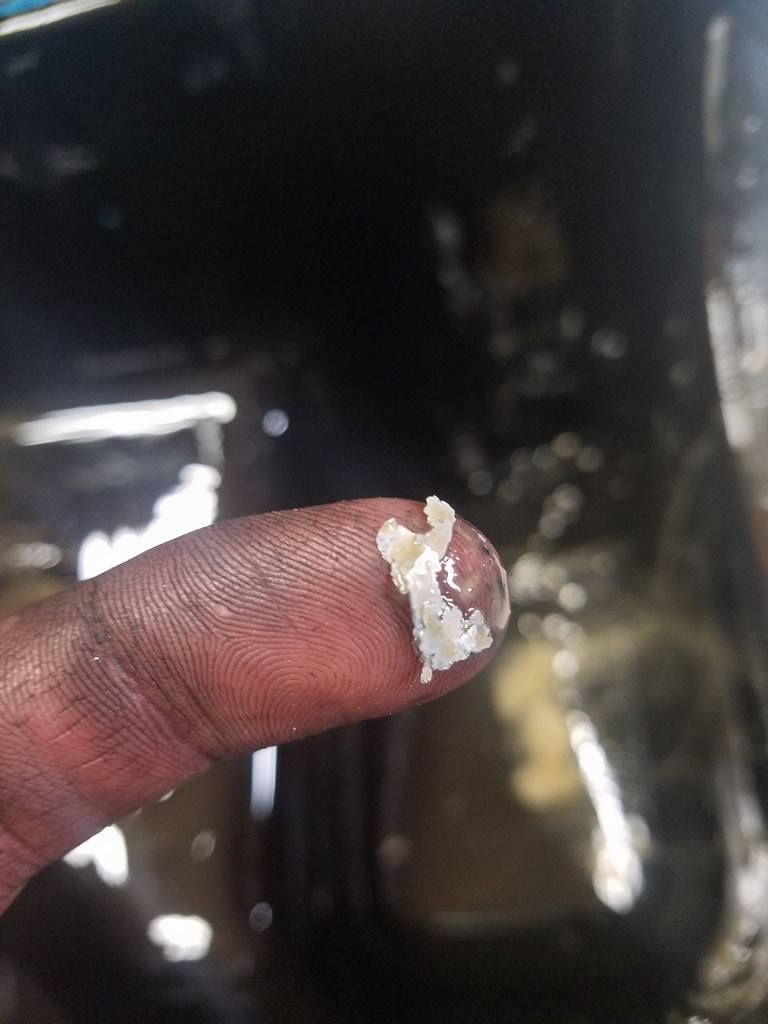 I went being Im this far in, I figured that I should just go through the entire thing and have it all properly gone over at a machine shop, so the teardown begins. Once I manage to get the crankshaft and bearings out, I could see what had caused the problem and the damage it brought with it. From the looks of it, when this engine was rebuilt by the previous owner, they just so happened to put the middle bearing in upside down, blocking off the oil passage for the crankshaft. Not sure how exactly you do this, but have also heard that it happens at a surprising rate.
Here is the nicely grooved crankshaft:
and then the reason for all of my issues: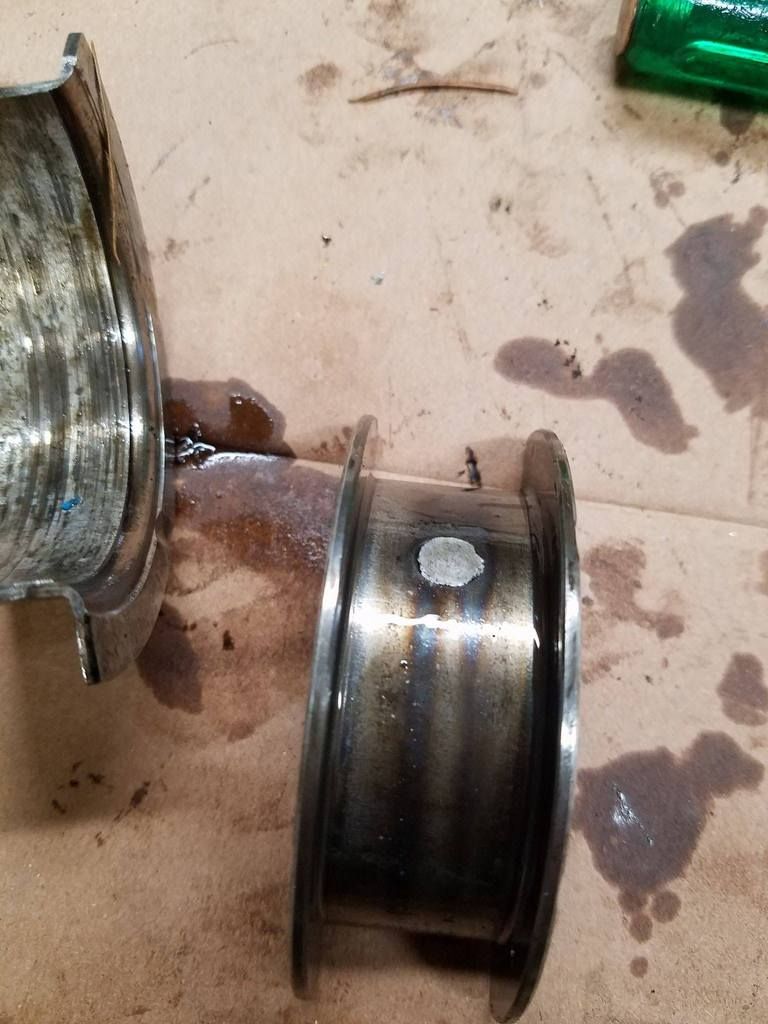 As you can see, the bearing has filled itself in with its own bearing material, which was placed on the bottom and not the top causing a complete lack of lubrication. In all honesty, This truck was probably running a few thousand miles with it like this, and only relying on splash lubrication to keep it going. Bad, but not that bad considering.
With the head and block completely stripped I dropped them off at a local machine shop to have the head redone and the block resurfaced, figuring I might as well throw a bit more boost into it, so best to have everything quality.
----Update 1 week later---
I got a call from the machine shop and they found a crack in both the head and the block.... The head had the usual cracks between the valves which after a bunch of research is hard not to find on these, but it also had cracks around the valve castings itself which I think is a problem if i'm looking for longevity and reliability... The block had a crack between a water jacket and a head bolt hole.. f***. It wasn't until the block was cleaned up that it was pretty apparent. The guess is that it had a big overheat at some point in its life.
This went from a winter break rebuild to something a bit more in depth.