It's an 89 Daytona Shelby. I blew the head gasket, so I decided since the head is off I might as well put a new turbo on it :thumb:
It has:
Stage 5 cal from fwdperformance.
Port matched intake mani, head, and exhaust mani.
52pph injectors
Massive turbo
Head studs
Soon to have:
E-85 tune
Bigger injectors
Ported Intake from fwdp w/ 52mm tb
255 fuel pump
The only part I'm stuck on the running an external waste gate with the stock exhaust mani.
I hope you guys enjoy
Here are some pics. :thumb:
New turbo on the left, stock Garrett on the right.
The two next to each other.
Bolted to the head ready for a test fit.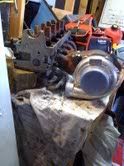 Test fit in the car. Fits nicely.
It clears the starter, firewall, and the Intake manifold.