Discussion Starter
•
#1
•
My lebaron started running really rough yesterday and has continued onto today. It rained yesterday slightly too so I thought that had something to do with it but now i'm pretty sure it had nothing to do with it.
Anyways, I was on the freeway and it started to buck and hiccup like it was losing power or not getting enough fuel. I was maintaining a speed of about 60mph and when it was sputtering it did not want to accelerate above that. my A/F ratio gauge was reading mostly lean and would sometimes bounce like normal if the engine started making power like normal. Which was off and on whenever it felt. The car has not stalled yet and is still somewhat drivable but still makes me worried so i'm limiting my driving.
The engine did not make any real funny sounds, no knocking or clunking or anything out of the ordinary.
I pulled codes and got the following...
12.... okay whatever nothing to worry about
35... Radiator fan relay circuit is open or shorted
22... Coolant temperature sensor signal out of range
54..! No fuel injector sync pickup signal during engine rotation
55... again nothin to worry about
I think my Hall Effect Sensor is going or something. Anyone have an idea where I should start for diagnosing this problem I have here. I know I am in need of some new spark plug wires so I'll definitely get some Accel 300+ 8.8mm wires.
Here's what I see when I took my dist cap off.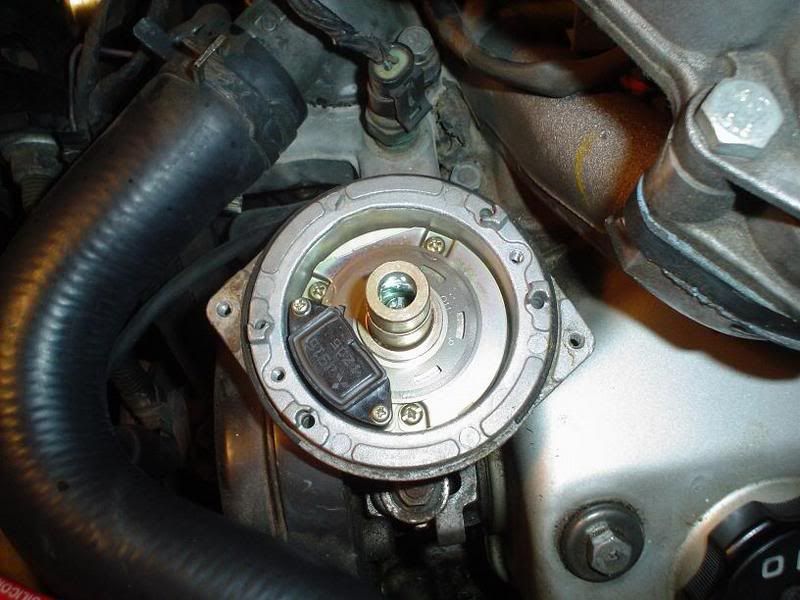 What else could possibly cause these kinda shinannagins?