I am posting this so I do not have to keep typing this over and over and will make it easier for members to find help on their own.
Fault Code 13/14...
No Change In Map Voltage From Key On To Engine Start
Map Voltage Does Not Equal Throttle Position.
Map Voltage Low
Map Voltage High
Map Wiring 85/86/87 (L-Body Only In 87) Logic Module Mounted
1)BK/LB Wire, Ground/Signal Return
2)DG/RD Wire, Map Signal Output
3)VT/WT Wire, 5 Volt Reference
Map Wiring 87 - 94
1)BK/LB Wire, Ground/Signal Return
2)DG/RD, Map Signal Output
3)VT/WT, 5 Volt Reference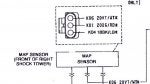 1)Verify Engine Vacuum from Manifold to Baro Solenoid and from Baro Solenoid to Map Sensor.
Engine Vacuum needs to be 16" - 20" HG.
2)Verify 5 Volt Reference and Signal Return Line.(PIC #1)
Key On/Engine Off
With Map Sensor Connector disconnected backprobe the 5 Volt Reference Line and Signal Return with a Digital Voltmeter.
Voltage should read approx. 5.00 volts.
3)Checking Map Output Voltage KOEO. (PIC #2)
Backprobe the Map Signal Line and Signal Return Line with a Digital Voltmeter.
With the Map Connector plugged in and the Key On/Engine Off read Map Output Voltage.
You are now reading Barometric Pressure, Voltage should be approx. 2.40 Volts at Sea Level.
4)Checking Map Output Voltage with KOER.(PIC #3)
With your Voltmeter Connected as in Step 3 and a Vacuum Gauge tee'd between the Baro Solenoid and Map Sensor start the car.
Compare Map Voltage to Vacuum/Pressure.(See Chart)
5)Quickly snap throttle open.
Vacuum should drop to 0 and then back to manifold vacuum(16-20" HG).
If it does not repair restriction in Map vacuum supply line.