Discussion Starter
•
#1
•
With all this talk about head gaskets lately I decided to write an article describing the various SOHC head gaskets. Below is the article I'm working on but I still have questions. Questions follow after the article.
Head Gasket Guide
There are two basic head gaskets used in the 2.2/2.5L SOHC family of vehicles. One being the non cross drilled style of head gasket, Mopar part number 5281064. This is the same style as the former Mopar Performance P4452005 head gasket.

The other style head gasket is the cross drilled style, Mopar part number 5281065. This is the same style as the former Mopar Performance P4452006 head gasket. The only difference between the standard production part is that the Mopar Performance version is double cross drilled. Notice in the below illustration how there is only one set of cross drilled holes (highlighted green) between the cylinders. The Mopar Performance gasket will have another set of matching holes towards the front of the block. No production vehicles came equipped with double cross drilled blocks.
Below is a list of head gasket part numbers for each year and engine combo. Part numbers highlighted in blue have been superseded to part number 5281064, non cross drilled style. Part numbers highlighted in red have been superseded to part number 5281065, cross drilled style.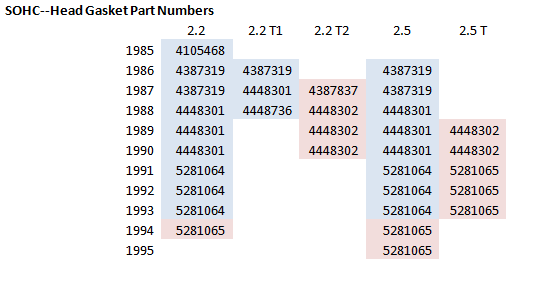 Of interesting note is the application of the non cross drilled head gasket throughout the 1990s. Many online sources indicate cross drilled naturally aspirated blocks existed as early as 1990. The factory parts manual indicate non cross drilled head gaskets were still in use as of the 1993 model year. The factory service manual of the same model year contradicts this by omitting the illustration of the non cross drilled gasket.
Additionally, the factory parts manual lists the wrong application of the cross drilled head gasket in 1987. The above chart has been corrected to show that 1987 "EDR" code engines use head gasket part number 4387837.
Questions:
1) According to martymopar in this
post
, the cross drilled style head gasket 5281065 is NS1. Can someone confirm that and see if any are available.
2) Many have been lead to believe that pretty much all 1990 onward blocks have been cross drilled. This seems to not be the case as indicated from the FSM and parts manual. Any experience? I've been putting cross drilled MP head gaskets in my 1990 Omni and can't seem to ever remember even validating to make sure it has a cross drilled block.
3) Double cross drilled heads seem to be normal in Chinese after market heads, heck I have one myself. Did the factory ever double cross drill a head?
4) Are there any double cross drilled production blocks? I know a few pre-production Shelby cars, limited production performance blocks, and some user created blocks are double cross drilled. Did the factory do this to any production vehicle?
5) What are the benefits/drawbacks of using a cross drilled head gasket in a non cross drilled block/head combo?
6) What are the benefits/drawbacks of mixing a cross drilled block with a non cross drilled head or vice versa?